METS approaches: here's InMare mini-guide
METSTRADE starts on November 19. Get your free ticket and visit InMare at booth 05.601 in the Marina and Yard Pavilion
Where & When?
Probably the most important trade show for boating industry professionals, METSTRADE will take place in Amsterdam from November 19 to 21.

How to attend the METS?
Participating is easy. Just register online and download your badge. Just don't think about it too much: you can get your free ticket only until November 11.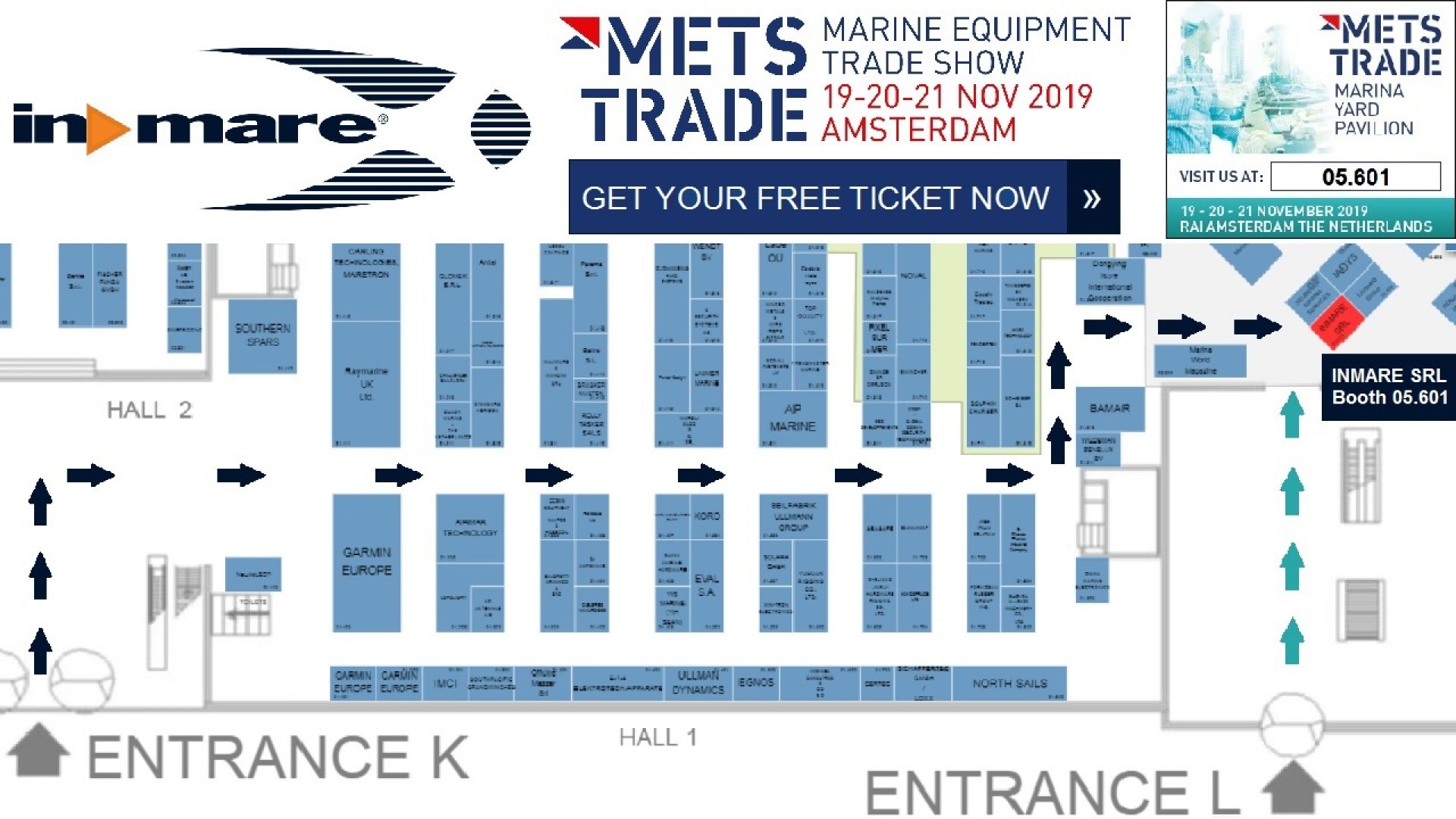 Where do I find InMare at METS?
InMare booth is number 05.601, located in the Marina and Yard Pavilion, right in front of the "L" entrance.
If you get in from the main entrance "K", instead, just go to the right, cross the Hall 1 and reach the MYP. InMare booth 05.601 is just ahead on the right.

What can I find at the InMare booth?
InMare will present its entire product range: InMare TPU mooring shock absorbers, InMare bumpers for docks, quays and piling, as well as EVA boat fenders. Our Sales Manager Federico Pesco and our Dutch distributor Gaby Ter Haar from Marcapelli will be pleased to show you the features of InMare accessories and to help you choose the most functional solutions for your needs. A contact form is available at this link.

What can I find in the rest of METSTRADE?
Unlike other trade fair shows, where the emphasis is mainly on the display and sale of yachts and superyachts, METS is mainly dedicated to equipment and accessories. Four sections: the main exhibition segmented by countries, with small and large suppliers of nautical accessories; the Marina & Yard Pavilion; the Construction Material Pavilion; the Superyacht Pavilion.
The Marina & Yard Pavilion (MYP) is an international reference point for the construction and management of Marinas. This pavilion is exhibiting mooring systems for docks, utility for walkways, lighting, emptying systems, hoists, cranes and trailers, boat trolleys, management software, storage and handling and hauling structures, fire and safety equipment... and InMare E.V.A. fenders for docks and quays, as well as our Nereide line mooring shock absorbers.
The Construction Material Pavilion is an exhibition platform hosting the most prestigious specialists in raw and composite building materials for the marine industry.
In the SuperYacht Pavilion (SYP), a whole series of products and services are on display for the luxury yacht industry.

So why wait any longer? Get your free ticket now!
See you at METS!